If you want to take your digital marketing to the next level, you'll want to hear all about marketing automation – every marketer's best friend. Digital marketing automation can help you run more efficient digital marketing campaigns, convert more leads and drive more revenue, all while shortening your never-ending list of tasks, saving you time and money. Get it right and it'll allow you to concentrate on other parts of your business.
Digital marketing automation is proving to be a game changer – the technology improvement that's aligning relevant, personalised content with what customers actually want and need.
Nearly 70% of marketing leaders are currently using a marketing platform. Of those who are automating marketing, 23% are automating their digital marketing campaigns.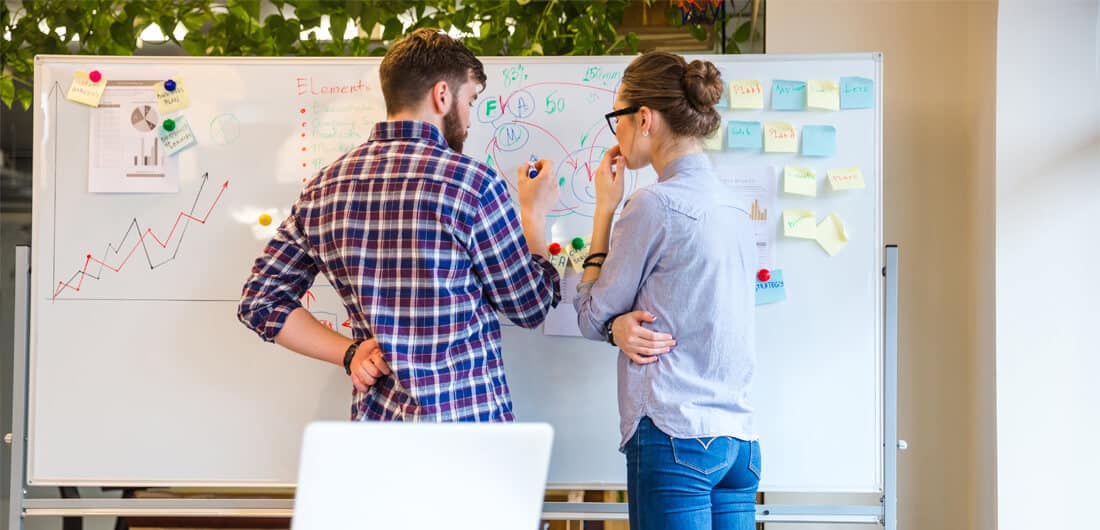 What is digital marketing automation?
In a nutshell, digital marketing automation uses software to automate marketing activities. It enables marketers or teams to systematize and schedule repetitive tasks such as email marketing, social media posting, and even SEM campaigns. Digital marketing automation mechanizes the collection of customer data and information, while managing time-consuming internal tasks.
When used well, it is a combination of software and strategy that:
allows you to nurture customers and generate new ones with useful, targeted content that helps convert and delight
helps you complete repeatable tasks in an efficient and effective manner
offers improved, more relevant customer communication
delivers better reporting, allowing you to review and analyze activity and its results
results in an increased revenue as more leads become paying customers
Types of marketing automation
Digital marketing automations are typically triggered by a consumer action, like purchasing online, subscribing to a blog, or filling out a form. When you get an email reminder from your pet food supplier that your regular order is shipping, that's marketing automation. When you get a text from your hairdresser reminding you of your appointment time tomorrow, plus a 20% off deal on conditioner, that's marketing automation.
Email marketing automation is the most widely used. There would be few amongst us who haven't received a pre-written and / or scheduled email that's triggered after completing complete certain tasks on a website, whether it be an order summary, or an 'abandoned cart' message.
Email automation happens when you set up a series of emails to send automatically to subscribers at a specific time. It is typically activated by time or action. e.g., a discount from your favorite retail store on your birthday, or a massive, long weekend holiday sale.
Action-based emails are a bit more involved. These automated emails are triggered by actions taken by a website visitor, lead, or customer who then receives an email or series of emails related to that particular action, like an 'abandoned cart' or even an 'abandoned browser' email. Many online stores employ them to entice shoppers to return and complete their purchases. The other benefit is in targeting audience segments with the exact content they needed.
Automated emails can help you generate leads and increase revenue, freeing your marketing team from spending all their time sending and monitoring them.
However, email isn't the only tool in the kit. Other marketing automations include social media, advertising, and SMS or text marketing automation – a growing favourite that is popular and effective, with higher, more reliable open rates than email.
Without digital marketing automation, all of these ways of reaching your customer would be an otherwise very manual process. That's why digital marketing automation is so revolutionary.
Digital marketing automation also extends to the social arena. Every marketer knows how
time-intensive social media marketing can be. To do it right, you have to take a consistent, regular approach. Digital marketing automation tools can schedule content, set social media monitoring filters, and even automate the response process (although don't abandon the human touch – nothing can replace genuine, personal interaction with your followers and customers.)
Advertising automation is another important component of the overall picture, as it automatically shifts and smartens its strategy in response to consumer behavior. An example is when a customer visits your website, and retargeting automation responds by displaying relevant ads on the sites they browse next.
CRM and digital marketing automation
Thankfully these two components go together like tomato sauce and hot chips. A simple update in your database can generate a whole host of internal tasks, such as lead scoring and alerting your sales team to new prospects. You can also use your CRM to trigger email workflows, either based on user data or user actions.
HiHo partners with SharpSpring
At HiHo we are all about making the workflow easier, more intuitive and our customers happy. That's why we use SharpSpring – a marketing automation platform that has a reputation for being an affordable yet highly-capable option for businesses of all sizes.
SharpSpring's feature set comes close to what many businesses are after. When it comes to pricing, some providers aren't always open about what they charge – but this isn't the case with SharpSpring. Pricing is purely based on how many contacts you need to manage.
You get unlimited users on every plan and SharpSpring quickly becomes a cost-effective choice for large teams. Plus, you also get access to all of the features on every version of the platform. If you've ever stumbled around trying to compare different provider features, this is a definite tick in the yes column.
SharpSpring positions itself as an all-in-one marketing automation suite and it packs an extensive list of features to match. Here's a quick look at what you've got to work with:
Marketing automation – YES
SharpSpring's visual workflow builder allows you to create custom automations to guide contact along the buying process.
Email marketing – YES
Email is always the building block of any automated marketing strategy and SharpSpring equips you with the essential tools. You get a library of email templates to work with, a drag-and-drop email builder for creating custom designs and content personalisation to make your messages more relevant.
CRM – YES
SharpSpring's built-in CRM allows you to manage contacts on an individual basis, reach out with personalised messages and automate workflows with them – all while keeping track of their progress along the sales cycle.
Web forms – YES
Visitor IDs – YES
Landing page builder – YES
Blogging – YES
Social media marketing – YES
Multi-device tracking – YES
Analytics & reporting -YES
You get email analytics, campaign tracking, behaviour tracking, multiple device tracking, ROI reports, custom reports and all kinds of other insights.
With the right marketing automation strategy and tools in place, you'll understand your audience and the customer journey every step of the way. Talk to HiHo to find out more about digital marketing automation using SharpSpring, because your automation should evolve as your business, products, and customers do.